Why You Should Consider Using Invoice Finance
Invoice finance is used by businesses across many sectors, including construction contractors, engineers, financial companies, and legal firms.

It's also a highly accessible and flexible product for established temporary focused recruitment agencies who operate with tight margins, and is a mainstream option for many funding providers and advisors.
What Is Flexible Invoice Finance?
For temporary recruitment agencies, invoice finance is often an attractive cash flow management option. Due to the way that they operate, recruitment agencies often pay their employed temporary staff on the payroll before their customers settle their invoices. Where operating margins are tight, this can pose a financial headache, particularly if the agency does not have large reserves of cash.
Invoice finance providers – banks, private lenders, and venture capital businesses – provide immediate payment of the bulk of a customer's invoice. This gives the recruitment agency instant access to cash so that it can pay its staff, but is liable for interest payments until the invoice is settled by the customer.
How can a temporary recruitment agency benefit from an invoice finance arrangement?
1) Accessibility
Invoice finance is easily accessible for mid-large sized independent recruiters (the smallest SMEs may not be eligible for invoice finance; an alternative cashflow strategy, such as our Pay & Bill, may be more suitable). Unlike other forms of funding, lenders place less importance on the recruitment agency's cash reserves and physical assets, both current (on the balance sheet) and historically, instead focusing on the strength of the asset against which they are securing the loan – i.e. your customer invoices. With many invoice finance providers offering highly competitive lending options, it's not difficult for a temporary recruitment agency to secure funding.
2) Flexibility
Because invoice finance is sales-linked, businesses can secure higher levels of funding as they grow and become more profitable. Typically, the invoice finance provider will loan up to 90 per cent of the outstanding invoices; therefore, as more sales are generated and more invoices are raised, the amount of working capital available also increases. In comparison, loans and overdrafts have a ceiling which restricts business growth, whereas invoice financing is a more elastic arrangement.
3) Protection
Invoice finance can protect your recruitment business against bad debt by ensuring the creditworthiness of your customers, both existing and new. Setting funding limits for each client will help to reduce your exposure to potential bad debt, protecting your business should a customer get into financial difficulty.
4) Time and Cost Savings
Where invoice finance arrangements incorporate a collections service, responsibility for chasing outstanding balances can be transferred to the provider. This means your team can spend their time more profitably developing your business, instead of following up on late payments.
Contact Us To Find Out More
TBOS helps agencies arrange competitive invoice finance arrangements to enable them to manage their cashflow more adeptly. To find out more, please get in touch.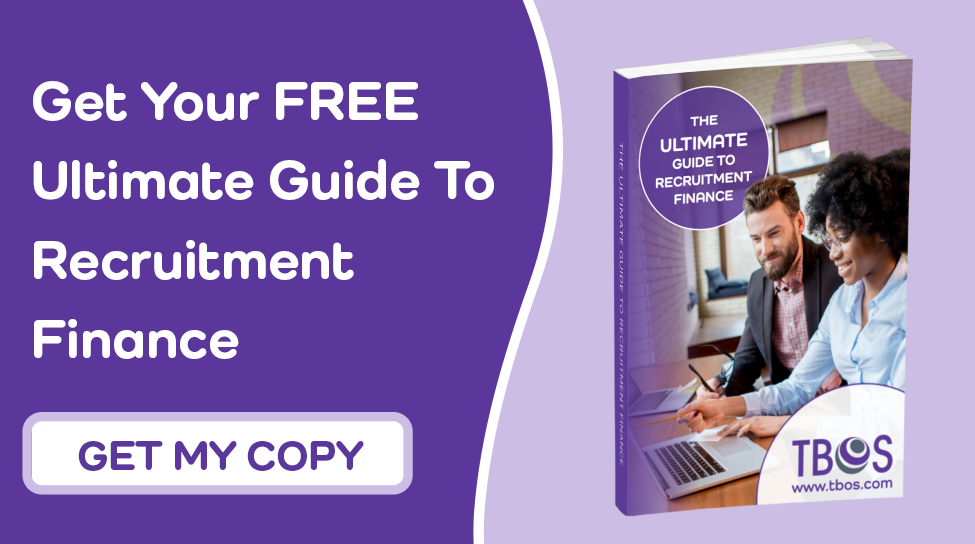 Image Source: Unsplash