Why You Should Consider Outsourcing Your Pay and Bill Needs
As a contractor-focused recruitment agency, your payroll and billing needs are likely to be complex, particularly as your business grows.
Managing your contractor payroll and customer billing can result in cash flow difficulties when contractor payments become due before your customers settle their liabilities. There are two potential ways around this difficulty: many temp agencies use invoice finance to provide immediate access to liquid capital as soon as invoices are issued – essentially by accessing a secured short-term loan with the invoice as collateral. Other agencies find it more convenient and cost effective to use an outsourced Pay and Bill service from a provider such as TBOS.
Pay And Bill From TBOS: How Does It Work?
TBOS Freedom is the Pay and Bill solution provided by TBOS and is a cost-efficient, straightforward solution for contractor recruitment agencies. This solution handles all aspects of the contract process, timesheets, invoicing, payroll and credit control process whilst providing the appropriate funding to pay the contractor before the client makes a payment.
TBOS Freedom reduces mistakes, boosts productivity, and maximises margins, while enabling agencies to stay in control of their cashflow and avoid the high charges associated with other forms of cashflow management strategies.
⮚ Contract Administration to ensure that all parties on the placement are protected under current UK law and legislation and with the agency included to ensure their identity remains with the client and candidate.
⮚ Online Timesheet System provided to reduce errors and increase accuracy (TBOS can also process timesheets outside of the Online Timesheet method).
⮚ Contractor Payments can be made under UK PAYE, to Umbrella companies or Limited Companies (based on their IR35 status).
⮚ Fully Credit Insured Placements as long as the client maintains a credit limit with our insurer.
⮚ TBOS charges of 3% of invoice value are only taken once the client makes payment in full.
⮚ International and Currency placements welcome as TBOS can fund placements in 15 different currencies and in over 170 countries.
The Benefits Of Pay And Bill
Outsourcing your Pay and Bill needs will:
✔ Deliver significant cost savings, with fewer hours spent chasing timesheet errors and duplications.
✔ Protect your business from reputational damage caused by payment mistakes.
✔ Reduce administrative tasks so your team can spend their time more profitably finding quality candidates and striking lucrative deals with new clients.
✔ Enable you to implement a more streamlined, progressive payroll system that is flexible enough to match the needs of your growing business.
✔ Ensure your recruitment agency's cashflow is protected by plugging the gap between your contractors being paid and your clients paying you – with all obligatory deductions, such as PAYE and NI, sorted on your behalf.
Pay And Bill Or Invoice Financing?
Both Pay and Bill solutions and Invoice Financing can help regulate and improve your recruitment agency's cashflow.
However, invoice finance isn't suitable for all agencies, especially start-ups and low or variable turnover businesses. Invoice finance requires a long-term arrangement with a provider and the agency will need to have a back-office function in place to raise the invoices and manage the day-to-day running of the invoice finance facility.
You may wish to consider Pay and Bill over invoice finance if you:
✔ Anticipate a projected contractor turnover of less than £500,000 p/a.
✔ Need flexibility, for example if contractor placements are likely to be short-term (or less than 12 months).
✔ Require a rapid solution: Pay and Bill agreements can be up-and-running in less than 48 hours.
✔ Don't want to sign up to a long-term finance arrangement with a Bank or Invoice Finance company
It can often be advisable for a recruitment agency to start by using a Pay-And-Bill solution such as TBOS Freedom and then move to their own Invoice Finance arrangement once they have a steady stream of contract placements and the facility becomes cost effective for them.
Discuss Your Pay And Bill Options With TBOS
To find out more about our Pay and Bill solution, please contact TBOS today and one of our friendly team will be pleased to assist.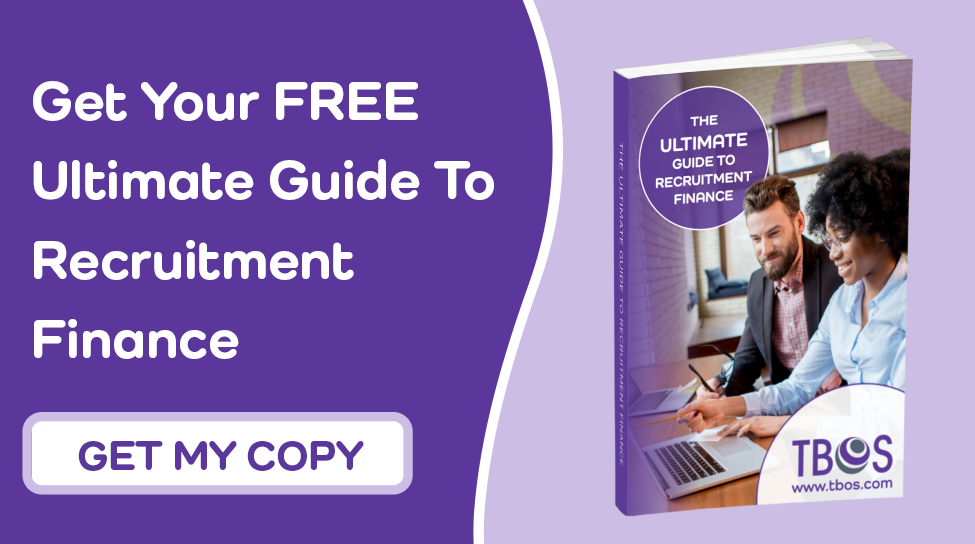 Image Source: Pixabay