Why Do Recruiters Look To Start Their Own Recruitment Agency
TBOS gets many enquiries each week from existing top-billing recruiters looking to start their own agency with their own plans of what they want to achieve. This may be to have a standalone permanent only agency or have aspirations to grow a large contract recruitment business with lots of internal staff.

There are many reasons why recruiters look to start their own agency and here are some of the reasons TBOS has heard:
To Make More Money
Top billing recruiters will often notice that out of the large amounts of margin made on their placements, this is not always reflected in their pay packet and they will often only see between 30-50% of their billings. By running your own business there is a greater chance of taking a larger portion of the profit and also be paid as dividends which have a lower tax rate than PAYE.
To Build A Business Of Value
The main difference between an employed recruiter and a recruitment agency owner is that as the business grows, the value of the company will also increase. This means that in the future should the owner decide to sell the recruitment agency they could get a large pay-out for the hard work they have put in over the years of growing the business.
To Have A Better Work-Life Balance
When you are the owner of your own agency you can decide on where you work, the hours or days you work, when you go on holiday and set your own KPI's. This can dramatically improve your work life balance and give you not only the lifestyle you desire but also improve your health.
To Make My Own Rules
One of the reasons we have heard from new recruitment agency owners is that they have come from an agency where they didn't agree with the work practices followed. This could be a change in commission scheme, unachievable targets or even change of management/ownership. When you run your own agency you can make the rules to suit yourself and build a culture for the future.
TBOS has helped over 300 recruiters start their journey in setting up their own recruitment agency. We can help with the company formation, business planning, HMRC registrations and arranging bank accounts and other suppliers. If the agency is looking to make temporary/contract placements then we can also help with arranging finance. TBOS works with the agency for the long term to help them grow a successful business which meets their goals and objectives.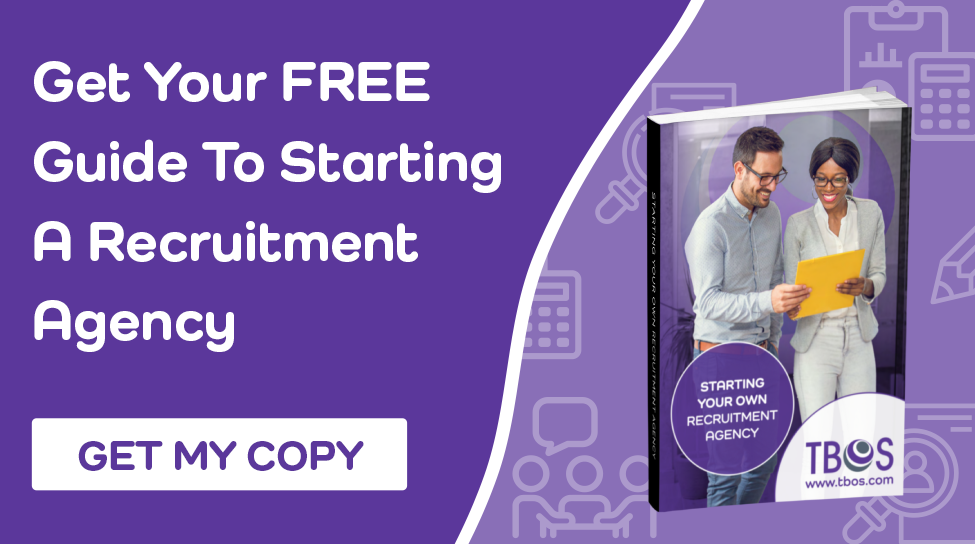 Image Source: Canva