What Is The Invoice Financing Process For Recruitment Agencies?
Invoice finance is an effective and dependable way to ensure fluid cashflow through your recruitment agency, so you have better control of available cash and can meet your payroll commitments on time.
It is a commonly used cashflow management strategy among established contractor-focused agencies, and is often cheaper than other types of credit, letting you pay contractors immediately and plan for growth while waiting for your customers to settle their liabilities. So, what is the invoice financing process and how does it work in the recruitment sector?
What Is Invoice Financing?
Invoice finance involves 'selling' your customer invoices to a lender (traditionally a bank but increasingly venture capital firms and private lenders, too), in exchange for immediate payment of the bulk value of the invoice. The borrower pays interest on the sum for each day of the loan period (i.e. until the customer pays the invoice), as well as an arrangement fee. An invoice finance arrangement is essentially a series of short-term variable secured loans, with the invoices themselves given as collateral.
The benefits of this mechanism for recruiters are clear, because temp recruitment agencies often pay their contractors before customers settle their invoices, creating a permanent payroll deficit between income and outgoing expenses.
Temp agencies typically have large monthly payroll liabilities and tight operating margins. Invoice finance services are particularly suitable, therefore, for recruitment agencies who do not have access to large cash reserves, and don't require a fixed 'line of credit' for purchases of supplies (as is common in other sectors, for example). When an invoice is raised, a large portion of the due amount is paid to the agency by an invoice financing provider, who then recovers the entire balance from the customer.
An invoice financing arrangement:
✔ Improves cashflow, as the recruitment agency has clarity about how quickly funds will become available.
✔ Enables the agency to remain in control of the sales ledger.
✔ Facilitates the release of cash to pay workers before the client makes payment.
✔ Supports business growth as managers can make informed strategic decisions.
✔ Ensures temporary workers are paid on time.
How Does Invoice Financing Work?
When an invoice finance arrangement is put in place, the process is as follows:
▪ Firstly, you issue your customer with an invoice.
▪ The invoice is uploaded to the invoice finance portal and you can request an agreed proportion of the total amount from the invoice finance provider to your business bank account (this is usually between 75 and 95 percent).
▪ The client is credit controlled (by the invoice finance company or the agency) to ensure the client pays within terms.
▪ When customers settle their invoices to a 'trust account' managed by the invoice finance provider where the remaining proportion of the total invoice amount becomes available (minus any charges).
Most providers will provide a facility across the whole debtor book, including permanent invoices and currency/international funding if required (depending on provider), to meet the agencies cashflow requirements.
Contact TBOS To Find Out More About Invoice Financing
At TBOS, we have a 100 per cent success rate of setting-up invoice finance arrangements for recruitment companies. We have access to highly competitive invoice finance from a panel of reputable providers, so you can stay in control of your cashflow.
To find out more, please get in touch.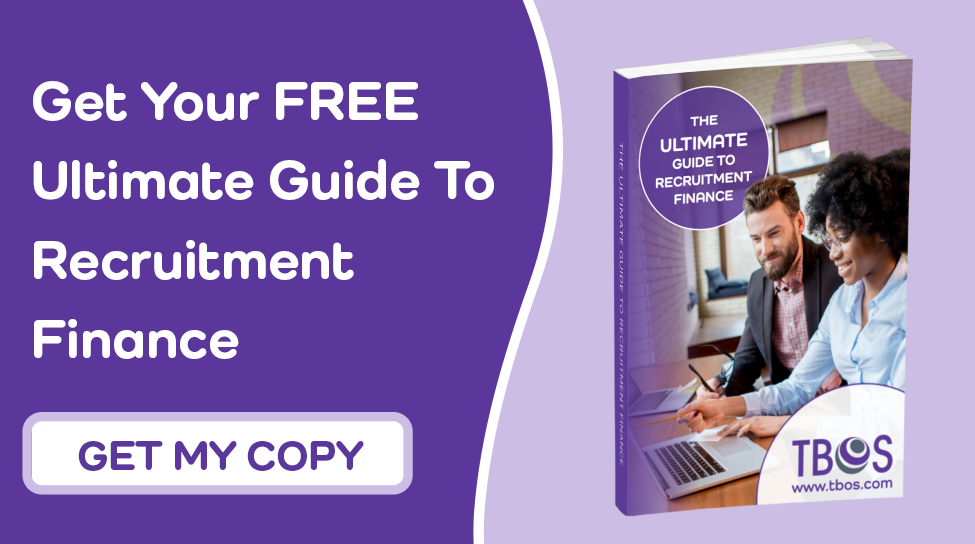 Image Source: Unsplash