What is the Future of Invoice Finance for Recruitment Businesses?
Invoice finance arrangements have become a popular cashflow management option for temporary-focused recruitment agencies, in which a lender (usually a bank but also some venture capital firms) provides the majority of a client's outstanding invoice balance as a cash advance.
This gives the recruitment agency better visibility of current and future cashflow so it can ensure its temp staff are paid on time.
Invoice finance is a type of short-term secured credit that uses your invoices as collateral. It is a flexible alternative to business loans and overdrafts as it never loans you more than you can afford to pay back – and is scalable to your financial needs as you grow. Most arrangements cover your full sales ledger, although some lenders offer credit on an ad hoc basis, too. It's important to check the details of the agreement before signing a contract.
How Invoice Finance Services Are Changing In 2022:
Invoice Finance Providers
Once offered mainly by banks, invoice finance is gradually shifting towards private investors, venture capitalists, and so-called FinTech (financial technology) companies. One leading high street bank is even reducing its operations in favour of paying commission to a leading FinTech to take on the invoice finance of its business customers.
One of the traditional downsides of invoice finance is that it was designed for large manufacturers to cover supply payments – not for recruiters. Not all contracts, therefore, had the flexibility to accommodate the ongoing payroll needs of temporary focused businesses.
For recruitment agencies, these changes may offer greater flexibility, with a choice of pay-as-you-go invoice financing, subscription plans that promise cost savings, and easier access to funding even when annual revenues are low – a big change from the current turnover thresholds, which can be as high as £500,000 for some banks.
API Technology
Application Programming Interface (API) technology is helping invoice finance providers to stay abreast of demand while maintaining a cost-effective and efficient service. API technology streamlines the entire invoice financing process by automatically reconciling repayments from borrower invoices via instant virtual accounts, thereby reducing the burden for lenders and borrowers alike, cutting service charges, and giving customers more time to focus on achieving growth. For recruitment agencies who rely on invoice finance to process their payroll on time, API technology could prove invaluable by eliminating the crucial time lag between submitting invoices and receiving funding.
Invoice Discounting
Invoice discounting allows you to finance your sales ledger on an ongoing basis and allow funds to be released against any unpaid invoices. This means that the cash flow can continue to be managed effectively so that you're able to still plan further ahead while waiting for payments. For recruitment agencies the process of invoice discounting is all done confidentially, so you can continue to maintain your relationships with your customers knowing that won't know that you're financing invoices, and that allows you to also remain in charge of your credit control processes.
Contact TBOS For More Information
At TBOS, we can assist with all your invoice finance needs, by negotiating a competitive deal with a provider from a panel of approved and trustworthy lenders.
To find out more about invoice financing, please get in touch with TBOS today.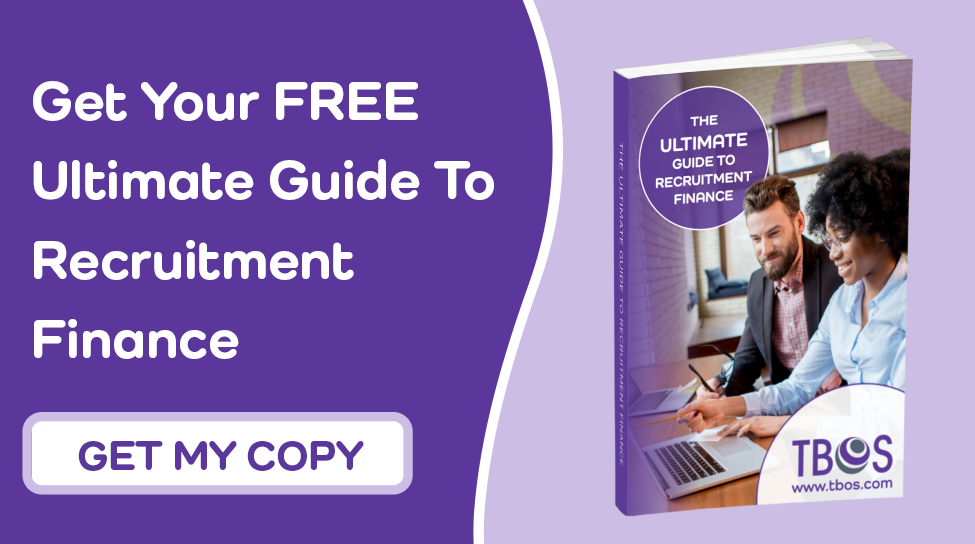 Image Source: Unsplash