What Do You Need To Do Before Making A Placement When Starting A Recruitment Agency?
Once the decision has been made to start a new recruitment agency, there are a number of tasks that need to be done before the recruitment process of calling clients and candidates can occur.
These tasks include: -

Register The Company At Companies House
Registering a company at Companies House can easily be done by going to the website, completing the registration process and paying the £12 fee. Within 24 hours the company should be formed and ready to be used. If there are multiple directors and/or shareholders, it may be a good idea to get some advice on the set up prior to registration.
Arrange A Company Bank Account
There are many different providers of company bank accounts on the market both high street and online. It is advisable to check with the provider how their online platform works, can it handle currency accounts (if you are making overseas placements) and the level of security.
Complete HMRC Registrations
When you register the company at Companies House, HMRC will automatically register the company for Corporation Tax and provide the company UTR number. However, it is advisable to register the company for VAT straight away to enable you to reclaim VAT on the start up expenses and make your company appear larger (as non-VAT registered businesses will be below £85k in turnover). Registering for PAYE may also be required if there will be salary payments to staff and/or directors within the first 3 months.
Register The Company Domain
Ensuring you can communicate with your clients and candidates via email is extremely important so getting the right domain name for your business is vital. Buying the .co.uk and the .com is also a good idea to ensure that no-one else owns a domain close to your new business.
Buy Company Insurance
Every business needs to have Employers Liability and Public Liability insurance but there may be other insurances you need for your industry and clients such as Professional Indemnity, Drivers Negligence, etc. so it is advisable to engage a good insurance broker to give you the best advice and get your premiums at the best rate possible for the cover required.
Engage A Back Office And/Or Accountancy Provider
Meeting your HMRC obligations and ensuring your books and records are kept up to date can make the difference between a successful business and an agency going bust in their first year. Engaging a company who can provide the help and support for your business needs and ensure you can concentrate on making those all-important placements straight away.
TBOS has many years' experience of helping new start up recruitment agencies with their registration process including registering new businesses with Companies House and HMRC along with providing introductions to banks, insurers and industry supplier so the new directors can hit the ground running from day one.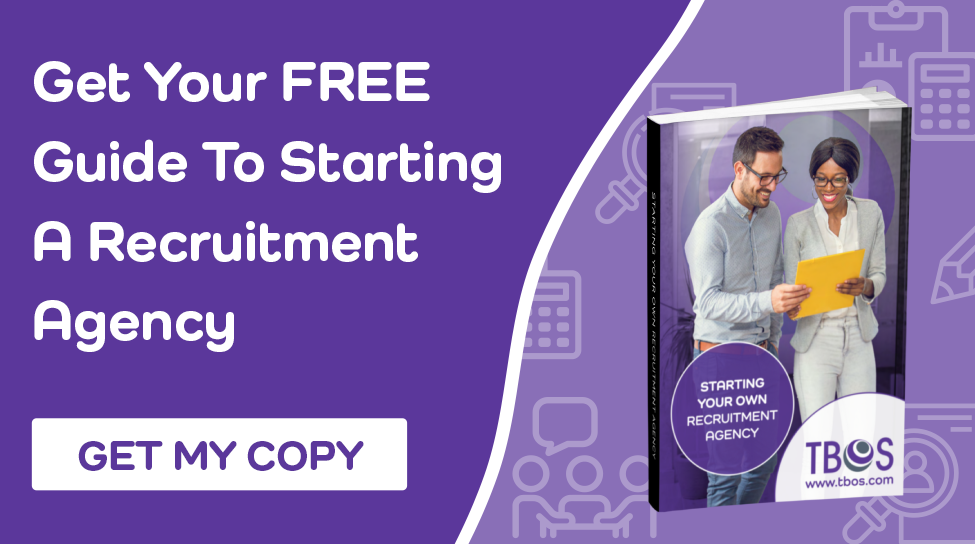 Image Source: Canva