Top Tips For Starting Your Own Recruitment Agency in 2023
Human Resources (HR) professionals will be actively looking ahead to determine their staffing priorities in 2023. The Pandemic reshaped the employment landscape in many sectors and, with many positions still unfilled, employers are actively seeking high-calibre, reliable workers for many roles. So, if you're considering starting a recruitment agency in 2023, now is the prime time to plan your new venture.

In this article, we'll outline our top tips to successfully start your own recruitment agency.
Choose Your Area Of Expertise
Launching a recruitment agency that targets multiple sectors pits your fledgling business against the industry's big players right from the start. It could be challenging to persuade clients to part with their existing suppliers, particularly if they enjoy long-held relationships. Instead, research the local market and identify the niche that is least well-represented by existing agencies. Carefully consider your knowledge, expertise, and network when you decide on which market to focus: many education recruitment agencies, for example, are staffed by former teachers who have a detailed understanding of the qualities of a good teacher and the staffing needs of schools.
Evaluate Your Financial Capability
All new businesses, including recruitment agencies which have low start-up costs, should be managed with financial dexterity. From the outset you will need to understand the available resources and carefully plan how you will invest your money on office equipment, branding, digital marketing, staff, and insurance. If you are struggling to make sense of financial planning, seeking professional support from TBOS will help you to set a realistic budget and devise an expenditure plan that doesn't threaten the wellbeing of your new business.
Get Up To Speed With Laws And Regulations
Compliance with relevant laws and regulations is vital to ensure that your recruitment agency fulfils its statutory obligations and doesn't expose itself to damaging sanctions, such as heavy fines. There are two areas on which to focus:
Data Protection Legislation: When recruiting candidates, you'll need to capture and store their personal information in compliance with the Data Protection Act 2018, which includes the well-known GDPR. The General Data Protection Regulation (GDPR) – an EU law incorporated into UK statutes in 2018 – dictates how you retain, process, and secure data, with severe penalties for non-compliance.
Industry-specific regulations: Many sectors have industry-specific regulations that must be observed. For example, if recruiting staff to work with vulnerable adults or children, your vetting systems must be robust and comply with all legal requirements.
Set Realistic Business Goals
All new businesses require hard work, dedication, and time to achieve growth, so it's important to set realistic goals for the short and long term. Your initial focus should be on delivering a positive experience for candidates and clients, to establish your new recruitment agency as a professional and trustworthy business. Once its reputation is established, you can concentrate on its development, gradually adding value and expanding your portfolio of services.
Outsource Your Back-office Operations
Instead of becoming bogged down by mundane and repetitive back-office tasks, outsourcing your accounts, invoicing, and payments can free you and your staff to focus on more profitable activities to grow your business. At TBOS, we can take care of all your recruitment business back-office needs, delivering a reliable and responsive service that is far more cost-efficient than hiring full-time staff to complete the same work in-house.
Contact TBOS For More Information
To find out more about how our outsourced services can help your new business to flourish in 2023, please read our free Guide to Starting Your Own Recruitment Agency or call us today on 03456460402.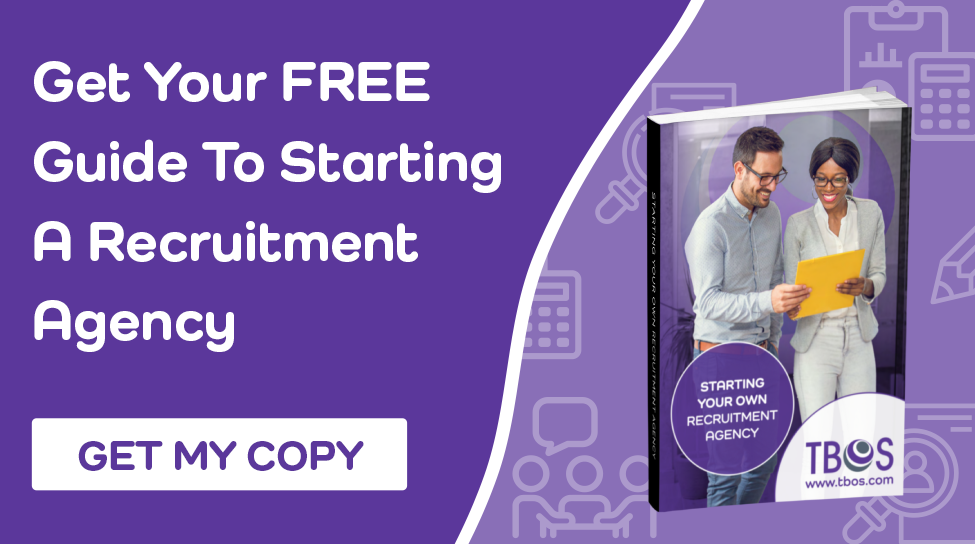 Image Source: Canva