How TBOS Can Manage Your Recruitment Agency's Invoice Finance
Cash flow management is important for businesses of all types and sizes, as tracking the money coming into the organisation will ensure that bills, salaries, and other costs are settled promptly without incurring debts. If managed effectively, cash flow offers a comprehensive overview of costs versus revenues and ensures that money can be spent prudently to strategically develop the business.

For smaller recruitment agencies, however, cash flow management can be problematic. Late payments from clients can unbalance cash reserves, although contractors and suppliers must still be paid. One solution is to work with TBOS who can provide an invoice financing service to help improve your business's cash flow and give you greater control over your recruitment agency's finances.
What Is Invoice Financing?
Invoice financing is a way that businesses can improve their cash flow by 'selling' their invoices to a third-party company. It allows for increased cash flow and greater predictability, as businesses can more accurately forecast the money coming into their accounts.
This allows them to pay suppliers and contractors more quickly and to invest in business development sooner than if they had waited for clients to settle their balances in full. The lender (normally a bank) who acquires the invoice will pay most of the due amount upfront and may (depending on the agreement) take responsibility for collecting it from the client.
What Are The Advantages of Invoice Financing?
For temporary recruitment agencies for whom cash flow is an ongoing challenge, invoice financing offers several important benefits:
Improved cash flow: being able to release the money that is tied up in invoices enables businesses to cover their expenses and invest in strategic development.
Quick availability of funds: invoice financing can be set up quickly, with invoice funds available within 24 hours of submission, giving businesses greater clarity about incoming money.
No security requirements: it may not be necessary to provide assets as security when arranging an invoice finance agreement, which is ideal for small recruitment agencies with limited capital.
Extended payment terms: an invoice finance arrangement can make favourable 30 or 60-day payment terms more realistic for small recruitment businesses, thereby increasing their clients' confidence and engagement.
How TBOS Can Help You To Arrange Invoice Finance
At TBOS, we have a 100% success rate of delivering invoice finance arrangements for recruitment agencies, both start-ups and established businesses. With a decade of experience supporting recruitment agencies, we can access the most advantageous funding solutions for the sector, working with a panel of reputable providers so that your business can benefit from competitive market rates.
For a free, no-obligation invoice finance review to see how an arrangement could support your recruitment business, please get in touch.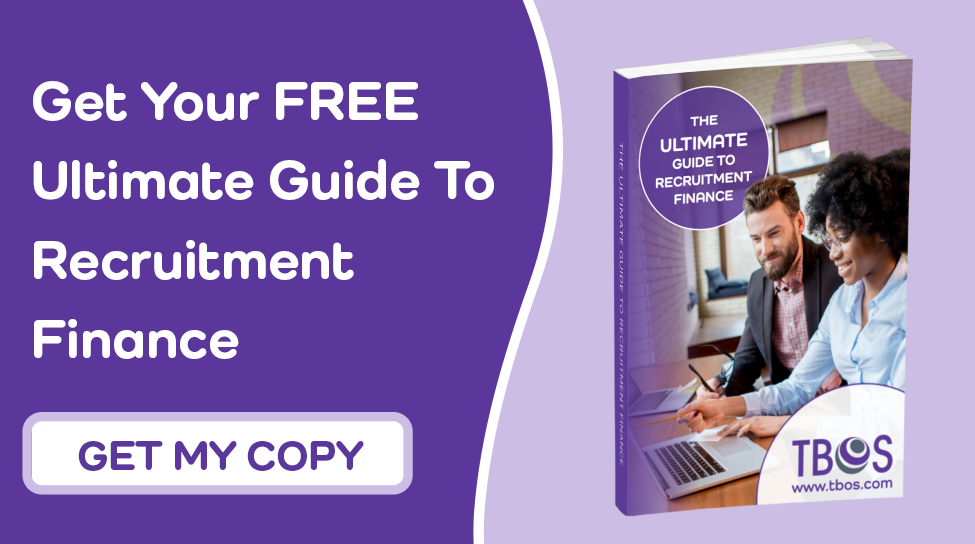 Image Source: Unsplash