Why Is Due Diligence Important In Invoice Financing?
Invoice financing is invaluable for recruitment agencies experiencing regular cash flow challenges, especially in the temporary sector. However, as useful as invoice finance is to strengthening scalability and resilience, a critical part of securing such a solution is financial due diligence.

WHAT IS FINANCIAL DUE DILIGENCE?
Due diligence in finance involves thoroughly scrutinising a business's financial records to determine its creditworthiness and potential for success before signing a financial agreement. Financial due diligence is a critical procedure that safeguards the lender and borrower in invoice financing.
REDUCING LENDER'S RISK THROUGH DUE DILIGENCE
Lenders face inherent risks in any financial arrangement. However, a well-executed due diligence process can significantly mitigate these risks as it helps lenders assess the borrower's capability to repay, thus minimising the chances of default. It instils a higher degree of confidence, assuring lenders that their investment is secure. With invoice finance, the risk to the lender comes from both the borrower – in this case your agency – and your customers, because no matter how reliable you are as a borrower, your customers could still default on their side of the bargain. For this reason, financial due diligence plays and even more critical role in lending decisions than for standard credit facilities and loans.
ENSURING A MUTUALLY BENEFICIAL FINANCING ARRANGEMENT
A successful financing arrangement benefits both parties, and due diligence is critical because it verifies the borrower's financial health and the feasibility of the agreement, fostering a relationship of trust and cooperation. With each side aware of the potential rewards and risks, the financing agreement becomes a win-win solution.
VERIFYING THE BORROWER'S CREDITWORTHINESS THROUGH FINANCIAL DUE DILIGENCE
Assessing both a borrower's creditworthiness and their stability and credibility as a recruitment business is vital in the invoice financing process. Finance providers don't want to lend to an entity incapable of repaying the loan. Herein lies the essence of due diligence in finance. It thoroughly checks the borrower's credit history, financial statements, and existing liabilities to ascertain their capacity to meet financial obligations.
LEGITIMACY OF INVOICES: THE CORE OF INVOICE FINANCING
In invoice financing, the legitimacy of the invoices being financed is paramount. No lender wants to finance fictitious invoices. Due diligence aids in ensuring the invoices' authenticity, verifying the existence of the debtor, and confirming that services have been delivered as per the invoice.
EVALUATING THE FINANCIAL STABILITY AND POTENTIAL OF THE BORROWER
Beyond just creditworthiness, a borrower's financial stability and growth potential are vital in invoice financing. Stability indicates a borrower's ability to withstand financial fluctuations, and their potential reveals how likely they are to grow and succeed over the contractual period. Due diligence investigates these aspects thoroughly, thus ensuring that the lender's money is in safe hands. Invoice finance lenders are looking for agencies with a steady stream of high value contracts, as they make their money through interest and fees on each loan. In recruitment invoice finance, therefore, an established agency with strong prospects and an thriving sales ledger may attract preferential terms due to their long-term income potential for the finance provider.
IDENTIFYING AND MITIGATING POTENTIAL RISKS
Due diligence is also instrumental in identifying and mitigating potential risks, uncovering hidden liabilities, pending lawsuits, or operational inefficiencies that may affect the borrower's repayment ability. Mitigating these risks helps ensure a smooth invoice financing process, protecting both parties.
HOW DUE DILIGENCE IN INVOICE FINANCING CAN HELP YOUR RECRUITMENT AGENCY
Thorough due diligence helps highlight your agency's financial stability and potential, bolstering your case for invoice financing. It provides an opportunity to prove your creditworthiness, ensuring lenders see your business as a reliable partner.
If you want to learn more about due diligence meaning in finance or need help with invoice financing, contact TBOS today. We can help you navigate the intricacies of financial due diligence, ensuring a seamless experience in securing invoice financing.
EXPAND YOUR FINANCIAL KNOWLEDGE WITH TBOS'S EXPERTISE
To learn more about recruitment finance, including financial due diligence, please download TBOS's Ultimate Guide to Recruitment Finance today. It features expert insights, practical tips, and valuable resources to help you take your financial knowledge to the next level.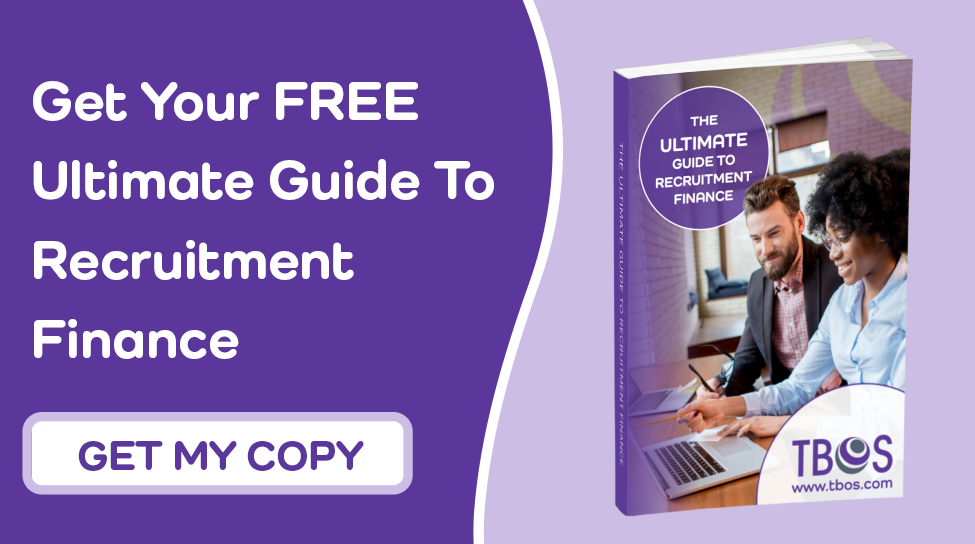 Image Source: Canva