Invoice Finance Services: How Can This Be Useful During Times Of Economic Uncertainty?
In times of economic uncertainty, forecasting demand and managing cash flow can be challenging: if invoices or wages go unpaid due to a shortfall of incoming cash, relations with suppliers and contractors can quickly sour, leading to a spiral of debt and making growth difficult.
The economic pressures of the COVID-19 pandemic led many recruitment companies to use the services of invoice finance providers as a viable alternative to accumulating debts or relying on the Government's Job Retention Scheme (JRS). But invoice finance is not simple for times of economic crisis or recession, but offers many benefits that can help businesses to improve their operational efficiency and become more profitable.
A Platform For Growth
Fluid and predictable cash flow is crucial for recruitment businesses who are seeking to achieve healthy growth while fulfilling their liabilities to their staff and contractors, even during times of economic pressure. Risks to the economic wellbeing of the country are varied and often unforeseen - supply chain disruption from world events, such as the war in Eastern Europe, affecting the logistics sector; industrial action; political instability; or even extreme weather events. Achieving business growth in these circumstances is an ambitious yet not unrealistic target.
Invoice finance can help recruitment companies achieve greater stability and a platform for growth when economic pressures bear down. Business owners will have a more insightful overview of current cash flow, knowing that liabilities are settled, and will be able to make informed strategic decisions to grow the company.
Increase The Volume Of Contracted Staff
Achieving growth as a temporary/contractor recruitment company depends on expanding the volume of contractors but, to do so often involves borrowing substantial amounts of cash from banks or other lenders. Payments frequently become due to contractors before payments are received from clients, leading to a cash flow deficit that can be hard to manage. With high interest rates on commercial cards and bank loans at the moment, relying on high street credit to cover your operating expenses can affect your ability to increase contracted staff numbers.
Invoice financing can eliminate the need to borrow lump cash sums from banks and provides more long-term certainty over cashflow, as you won't need to include loan repayments in your financial planning. This will enable your business to hire more contractors and increase its pulling power with new clients.
A Facility That Grows With Your Business
Invoice finance offers reassurance that the cash will always be available to fund your recruitment company's liabilities. There won't be any need to constantly renegotiate credit limits or seek competitive borrowing, and business owners can be confident that new opportunities and strategies can be funded up front with a ready supply of cash, freeing the company from the uncertainty of waiting for customers to settle their invoices before being able to pay their bills.
Contact TBOS To Find Out How To Finance Your Invoices
At TBOS, we are proud of our 100 percent success rate of setting-up invoice finance arrangements for recruitment companies. We can arrange highly competitive invoice finance from a panel of reputable and trustworthy providers, to give your business the chance to thrive in challenging times.
To find out more, or to request a free, no-obligation invoice finance review, please get in touch.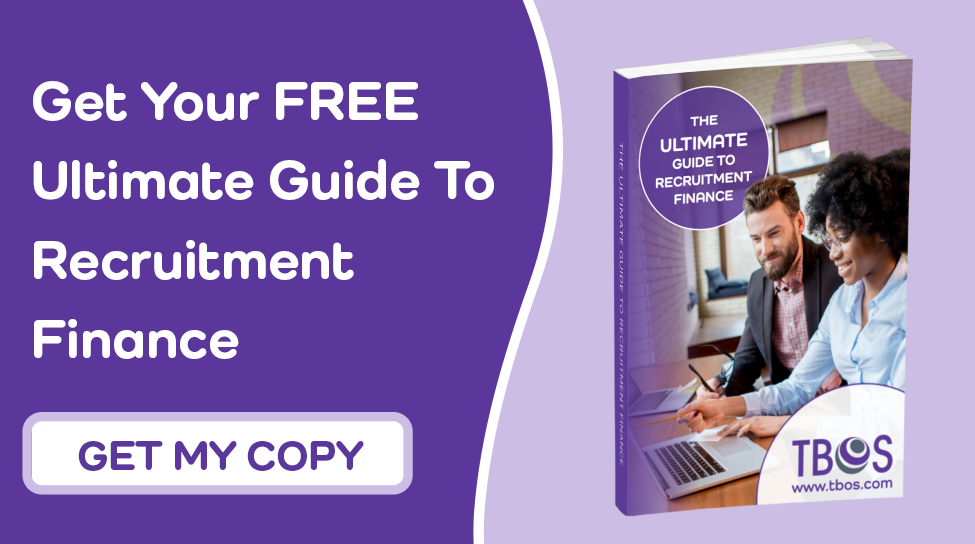 Image source: Unsplash