How We Manage These 3 Types of Invoice Financing
For recruitment agencies specialising in temporary or contractor placements, uncertain cash flow can be problematic. Delays in receiving payments from clients can make it difficult to pay your contractors and suppliers on time, and make it difficult to plan for growth. Outsourcing your agency's accounts to a reputable specialist can help you to gain better control and visibility of your cash flow; however this may not be enough to achieve a better balance between costs and revenue.

Invoice financing can put the money you are owed into your business's bank accounts more quickly, enabling you to settle your liabilities more promptly and make more informed investment decisions.
The Three Types of Invoice Financing
In simple terms, invoice financing allows a recruitment agency to 'sell' their invoices to a bank, who will pay an advance amount upfront and assume responsibility for collecting the money from the client. The balance, minus fees and interest, is sent to you once the client has settled their full outstanding balance This helps the agency to forecast its income more accurately and benefit from improved visibility of available funds.
There are three types of invoice financing which we can assist with at TBOS:
1) Spot Financing
With spot financing, a business sells an individual invoice (or a set of invoices) to a third-party company on a one-off occasion. This enables them to obtain the payment they are awaiting more quickly to prevent problems with cash flow. Up to 100 per cent of the value of the invoice may be financed, although a one-off invoice financing arrangement is often more expensive.
2) Account Receivable Financing
With account receivable financing, a small business sells all its invoices to a lender at a discounted rate, thereby avoiding the need to take out an expensive loan to improve cash flow. This arrangement offers considerable flexibility, as the business can choose which invoices to submit and can access the service only when needed.
3) Debt Financing
Suitable for the worst-case scenario, where other remedies have failed to elicit payment for an invoice, a business may employ a debt financing company to pursue debts – i.e. overdue, disputed, or unpaid invoices, on its behalf. Only a small percentage – perhaps as little as 10 percent – of the invoice total is returned to the business, so this should only be considered as a last resort for 'bad debts', as an alternative to legal action.
How TBOS Can Support Your Cash Flow Management
At TBOS, we offer all three types of invoice financing arrangements to improve your cash flow management.
With our extensive experience supporting both fledgling and established recruitment agencies, we can access the most competitive rates from trustworthy third-party companies so that you can receive payment for your outstanding invoices promptly and for a reasonable cost – helping you to avoid the need to apply for expensive business loans.
To find out more, please get in touch with TBOS today.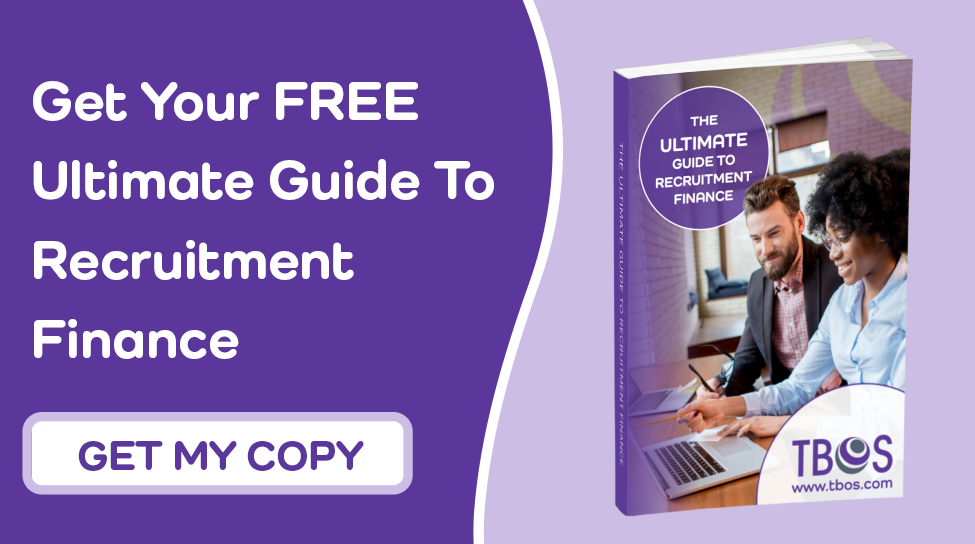 Image Source: Unsplash