How Outsourced Accountancy Can Improve Your Recruitment Agency Efficiency
Managing a recruitment business presents many challenges, one of which is keeping a close eye on your company's finances. An awareness of your financial situation is always imperative, so that you can ensure your contractors are paid on time and plan for your business' future growth. It's also vital to ensure that you meet your legal obligations, such as submitting your tax and VAT returns.
One cost-effective option for reducing the in-house resources you have to commit to admin is to outsource bookkeeping to a specialist such as TBOS.

Why You Should Outsource Accounting To TBOS:
Peace Of Mind
Managing your finances can, occasionally, throw up an unexpected glitch. Even with advanced knowledge of how to manage your finances and taxes, when things don't go to plan it can be stressful and time-consuming to resolve. Knowing that your recruitment business' books are being looked after by a capable expert with experience in the sector offers the peace of mind that every detail will be properly considered and factored into your accounts, so you can focus on generating operational efficiencies instead.
Greater Focus On Growing Your Business
Outsourcing your business' accounts is a cost-effective practice because it will reduce your expenditure on in-house bookkeepers and allow you to concentrate on re-investing the money you save. With an outsourced accountant, you will only pay for the hours that are required to manage your books, so the money that would otherwise have been spent on a full-time bookkeeper can be invested in recruiting additional staff for business development or implementing technology to improve efficiencies.
A Source Of Professional Advice
Outsourced accounts specialists can provide incisive professional support for your recruitment business that can support its growth and reduce costs by implementing efficiency savings. Managing your own accounts can be so time-consuming that you may only focus on getting your numbers right, rather than analysing them to understand what you can learn from them. An outsourced specialist has the experience and skills to assess your financial standing to identify strengths and weaknesses, before making recommendations about how to improve revenue.
Contact TBOS To Find Out More
To find out more about outsourcing accounting services to our team of experts, please call us today on 03456460402 or send us a message.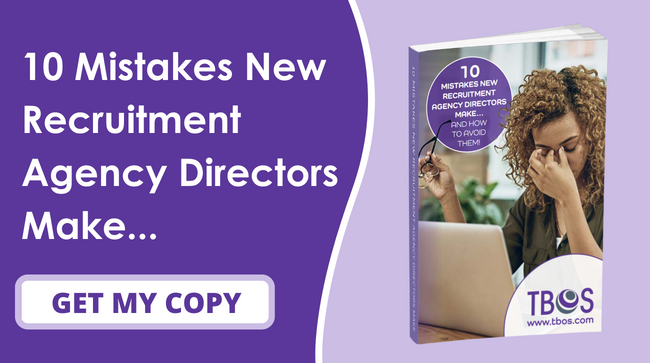 Image Source: Canva