8 Advantages Of Outsourcing Your Bookkeeping Services
Let's face it; bookkeeping can be time-consuming, monotonous, and undervalued work for business owners. It's not the reason you got into business. And when the day's work is done, you're probably glad to see the back of the back-office– pardon the pun.

If you've had your fill of stamping, counting, cost allocating, ledger posting, and spreadsheet keeping, it might be time for a change. You might want to consider some of the best outsourced bookkeeping services the UK has to offer, such as TBOS. There are at least 8 reasons to give this some serious thought:
1) The Time Factor
You don't need us telling you time is money. You're fully aware of the value you provide to your clients once you've freed up some time. The fact is that a few minutes' worth of networking, problem solving, and decision making can be worth more than a full day's work with the books. With outsourced bookkeeping, you can make better use of your time, make the most of your skills, and bring in more business.
2) Efficiency and Focus
You know you're efficient when you make the most of your resources to achieve your goals. If you let the bookkeeping aspects of the business distract you from them, you miss out on growth opportunities. To turn your company into a well-oiled machine, you must focus on the issues at hand and keep your keen eye on key performance indicators. With outsourced bookkeeping services, you say the word and all those tedious tasks are done. TBOS makes fast work of your back-office backlog.
3) Risk Management and Accuracy
The most ironic thing about doing your own bookkeeping is that you'll probably spend twice as much time as a professional would doing the work, and still somehow manage to make mistakes. Whether it's because you mixed up some receipts or overlooked some expenses from the balance sheet and overstated your profits, you're likely to make false assumptions about your business based on these figures. To make matters worse, bookkeeping mistakes don't go away and HMRC doesn't take kindly to them. One of the greatest benefits of outsourcing bookkeeping is that you have a trained eye overseeing every entry and every report. Experts like TBOS can pinpoint any mistakes and iron them out for you.
4) Industry Expertise
When it comes to outsourced bookkeeping services, the UK is a sizable market. So, enlisting the help of bookkeeping experts gives you instant access to professionals who know the intricacies of your sector. As they hone their craft daily, onboard a variety of experts, and help develop powerful software solutions, they are best placed to gain and share insights relevant to your field of practice.
5) Top Bookkeeping Tools
Outsourced bookkeeping services deploy the latest and most powerful software tools on the market for the benefit of your business. Using their software and processes will, for one thing, offer you enhanced insight into your business performance. This data can be used to better inform your decision-making process.
6) Round-the-Clock Reliability
Bookkeeping work doesn't wait for anyone. If you are unable to work because you're on holiday, medical leave, parental leave, or missing in action for reasons of your own, the work will pile up. And the longer you wait to do the work, the more cumbersome and error-prone it gets. One of the main benefits of outsourcing bookkeeping is that you needn't worry about a backlog. With experts like TBOS on the job, your books are always up to date, whether you're at work or not.
7) The Cost Factor
There's a misconception among small business owners that it pays to do your own bookkeeping. But as a recruitment business owner, your time is worth much more than a bookkeeper's pay. For one thing, you need to factor in the opportunity cost. That's the value of the business you lose by not using your precious time doing what you do best: bringing in new business, networking, making cost-saving decisions, monitoring the competition, coming up with new product lines, etc. When you think of it, the expense of outsourced bookkeeping pales in comparison to the cost of all the opportunities you're losing out on. And it's a small price to pay to keep your competitive edge in today's world.
8) Scaling Up
Nowadays, it's all about the size of your business. If you don't grow constantly, you risk falling behind. However, there's no chance of growing if you don't make those all-important cost-saving decisions, and you can't make them if you don't have a clear picture of all your costs. You need these figures to trim down costs wherever possible, be they fixed or variable costs. With outsourced bookkeeping, UK markets are clearer. With accurate cost data, you know when to put pressure on your suppliers and contractors for better quotes and higher margins.
Next steps
At TBOS, we provide a range of tailored admin support and accountancy services to recruitment agencies, with scalable packages and fees to suit your budget and growth plans. To find out more, please give one of our service team a call for a no-obligation assessment of your needs and a free quote.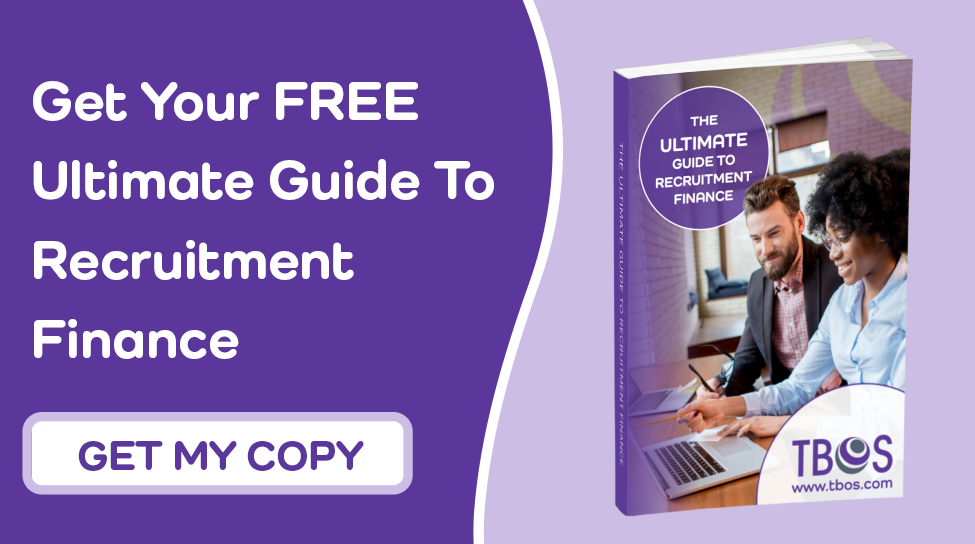 Image Source: Pexels